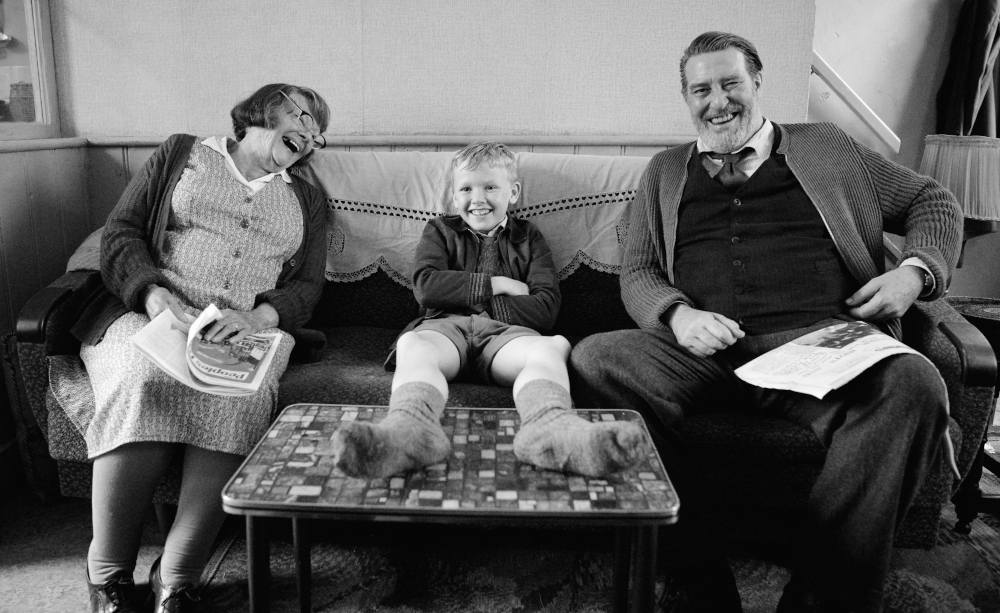 – By Cate Marquis –
RATING: 4 out of 4 stars
Kenneth Branagh gives us one of his best films, and his most personal, with BELFAST, a partly autobiographical tale of a boy in North Belfast in 1969. It is more a year-in-the-life story rather than a coming-of-age one but it is a pivotal year in many ways.
Mostly, BELFAST is a child-centric comedy but it does take place in the shadow of the Irish "Troubles." Branagh both wrote and directs BELFAST, which is filled with distinctive Irish humor, biting quick-witted wordplay and colorful characters, along with childhood memories of a working class neighborhood where everyone knows everyone. This 1969 tale is mostly both funny and warm, happening against the wonder of men walking on the Moon, but while thoughts of the Irish Troubles dog the parents and danger sometimes looms, viewers need not worry about graphic violence in this film.
BELFAST opens with 9-year-old Buddy (Jude Hill) and his friends playing in an alley, having mock battles with wooden swords and trash can lids as shields. As Buddy's mother (Catriona Balfe) is calling him in for dinner, an angry mob shows up at the end of their street. A driver-less car is rolled on to the street and blows up. With that car bomb, children's mock battles give way to the real battle of the Irish Troubles.
Buddy's family is Protestant, as are most of his neighbors, but a few Catholics have moved in too, and it is the Catholics the radical mob was hunting. But the tight-knit neighborhood is not having it, and everyone pitches into to build a barrier at the end of the street to keep out the mob, tearing up the paving stones on the sidewalk to build it.
Buddy's parents grew up here, and he is surrounded by family and friends in this street of row houses and little shops. Buddy is particularly close to his charming, talkative grandfather Pop (Ciaran Hinds), and his no-nonsense Granny (Judi Dench), who is quick to call out her husband's more outrageous yarns. Buddy's father, Pa (Jamie Dornan), often is gone for a week at a time as he works in construction in England, leaving Ma to watch over the 9-year-old and his older brother Will (Lewis McAskie).
Shot mostly in gorgeous black and white, the film follows Buddy's adventures, his crush on a blonde-haired girl in his class, being goaded into shoplifting candy, working on an assignment about the Moon landing and other childhood adventures. The family watch Westerns on TV, go to the movies and the theater, where we get little flashes of color. While Buddy's world revolves around childhood concerns, his parents try to shield their sons from the dangers of the Troubles, often led by a local radical that Buddy's father calls a "jumped-up gangster." It doesn't always work, and the worried father wants to leave Ireland, but his wife resists leaving the only place she has ever known.
READ THE FULL REVIEW ON WE ARE MOVIE GEEKS:
BELFAST – Review