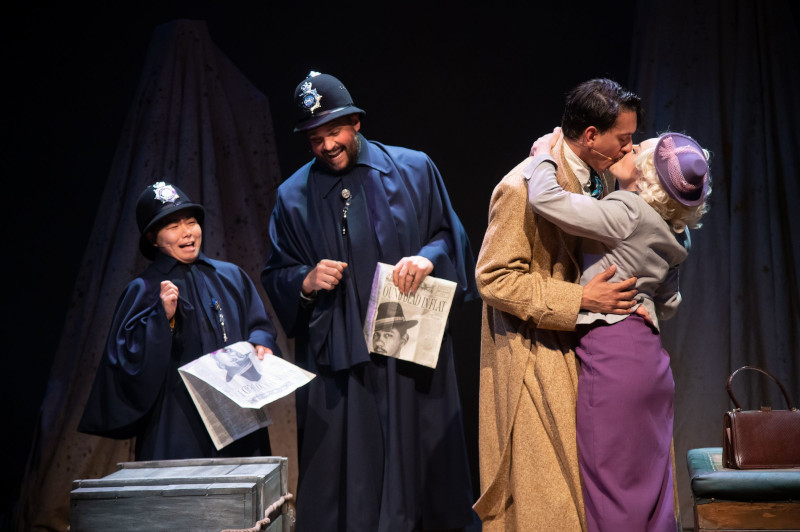 Photo: (left to right) Futaba Shioda, Jimmy Kieffer, Ryan Colbert and Olivia Gilliatt in Patrick Barlow's adaption of "The 39 Steps," on stage at the Repertory Theater of St. Louis through April 10. Photo Credit: Jon Gitchoff. Courtesy of the Repertory Theater of St. Louis
– By Cate Marquis –
"The 39 Steps" closes out the 2021-2022 season for the Repertory Theater of St. Louis on a wild comic note, a production that runs through Apr. 10. "The 39 Steps" is a 1930s set classic thriller that the Rep has presented before. However, this version on stage now is far different. This production, directed by Kate Bergstrom, is an adaptation by playwright Patrick Barlow that is more inspired by than based on the Alfred Hitchcock thriller of the same name.
This show was originally scheduled for Jan. 21-Feb. 13 but was replaced by "Stickfly," a family drama/comedy that had not been on the original schedule, after a Covid resurgence caused a temporary pause in the season.
The venerable Rep has had rough time this season due to Covid. Just when it looked like things could open up, new waves of variants shut things down, which meant the Rep was left with a stop-and-start season that was ultimately truncated. An early 2022 Covid resurgence caused changes in the program, with some plays replaced and some dropped.
Let's take a look at this production. If you are looking for a stage version of "The 39 Steps" more faithful to Hitchcock's film, this isn't it. However if you just want a distraction from current events, and a chance to laugh at pure silliness, then this "The 39 Steps" may be for you. You will only find only a shadow of the original in Patrick Barlow's adaption of the Hitchcock film, much less the novel by Scottish author John Buchan. It's not really "The 39 Steps," except in the loosest sense. So what DO you get? A whole lot of silly with a vaudeville bent. Much of the humor could be called corny but the cast's ability at physical humor and stunts is impressive.
Playwright Patrick Barlow based his crazy adaption on Hitchcock's classic movie, which was adapted from John Buchan's adventure novel, a British yarn with a colorful hero that mixes murder, false accusations, spies, romance and a chase across Scotland. The hero, Richard Hannay, is a world-traveling adventurer, in the British tradition of Sherlock Holmes and a clear forerunner of James Bond. However, if you don't already know the plot, which involves the hero trying to foil a shadowy Nazi-like group trying to smuggle secrets out of Britain, you won't much of that in this production, so the show is better suited to someone who already has seen the film.
The bare-bones plot exists mostly as framework to hang comedy on, as the production is packed with pratfalls, vaudevillian stunts, physical comedy, silliness, and sometimes corny humor. The program references Monty Python but this is more Benny Hill. As distraction, it can work quite well if you are up from this style of humor. Everything is presented at a fast and furious pace, as a mere four actors play all the parts, over 100 of them, as they race through whole story built around a conspiracy threatening the country's security and a chase across Scotland. Don't expect to really know what is going on unless you already know the story, but be prepared to see some impressive physical comedy skills from the cast.
Lucky Ryan Colbert is the only cast member who gets to play only one role, that of our hero, Richard Hannay. Olivia Gilliatt plays all the three female roles that have romantic aspect. Futaba Shioda and Jimmy Kieffer play all the other roles, which is an exhaustively long list.
As the show opens, our hero Hannay (Ryan Colbert) is casting about for what to do next, having just returned to England after years abroad. Nothing too heavy, nothing too meaningful, nothing that requires hard work, he says, then he announces the solution: go to the theater. It's one of the few sly jokes that remain from the original. By go to the theater, Hannay does not mean a play or even a movie, but classic English music hall, a variety theater style like vaudeville, where he sees a performance by a mentalist called Mr Memory (Futaba Shioda). But the performance is interrupted by a shot fired, all chaos quickly ensues, a a beautiful woman in danger, Annabella (Olivia Gilliatt) asks Hannay for his help.
Back at Hannay's nearly-empty new apartment, Annabella tells Hannay about the "39 Steps," a British military secret than a shadowy group that is allied with a foreign nation are trying to smuggle out of the country, and pleads for his help. But the bad guys move in, there is a murder, and the police assume Hannay is guilty. To prevent the shadowy group from succeeding with their evil plan, Hannay goes on the run, following the clues to Scotland.
Olivia Gilliatt also plays Margaret, a Scottish woman who helps him on the way, and Pamela, a independent woman who finds herself handcuffed to Hannay at one point, becoming his reluctant companion, in familiar Hitchcock romantic set-up. All the other roles, from villains to police to newsboys, and including an over-the-top hostess at a grand manor house, are played by Futaba Shioda and Jimmy Kieffer, who are in constant motion changing roles and costumes at lightning speed.
Putting aside whether this is your style of humor or not, the performances from all the cast were very good. Futaba Shioda and Jimmy Kieffer have the little guy-big guy appearance of a Laurel and Hardy or Abbott and Costello-style comedy team, and there is a lot of that kind of stick. Slapstick and other physical comedy are the main fare, combined with over-the-top character bits, all carried out with heart-stopping speed. Their stamina and strength is impressive, and Futaba Shioda was a real comic dynamo. While Futaba Shioda does the crazy mugging and nutty routines, it doesn't work without Jimmy Kieffer as a foil, and he also was excellent. Some might call this physical humor classic while others might call it corny, but the audience seemed to enjoy the silliness and stunts.
While Futaba Shioda and Jimmy Kieffer, who were both billed only as "Clown" in the program, handle the bulk of the comedy, Ryan Colbert as Hannay delivers his fair share of humor, both tossing off funny lines with breezy style and tumbling across the stage. Colbert played Hannay as a charming, resourceful fellow thrown into unlikely circumstances, and is matched well by Olivia Gilliatt, who excelled at the kind of mix of drama, humor and romance typical of Hitchcock films. Their banter and romantic sparing were an enjoyable part of this production that was the most like the original film.
With all the fast action and costume changes this show required, the scenic design by Stepanie Osin Cohen is kept minimalist. There is often with an improvised look and some props repurposed from scene to scene. The found-object nature of the sets and props brought to mind, for me, "Noises Off" more than "The 39 Steps." The minimalist sets does little to evoke locations but for this production, it hardly mattered, since the plot largely has dispensed with.
This version of "The 39 Steps" is certainly not a conventional stage adaptation of a classic movie. Whether you enjoy this re-imagined version depends on your expectations and taste for slapstick. If you love the latter, this is just the ticket for a distraction from the cares of the world. If you are hoping for something more Hitchcock, there are only passing references (in the music and a few lines, not always referencing this film either) and the barest hint of the plot. While this production may frustrate anyone who thought they would see stage version of Hitchcock's adventure thriller, the fault does not lie with the skilled performers who, in many ways, are the only real reason to see this show.
"The 39 Steps" is on stage at the Repertory Theater of St. Louis' Mainstage space at the Loretto-Hilton Theater in Webster Groves through April 10.
© Cate Marquis