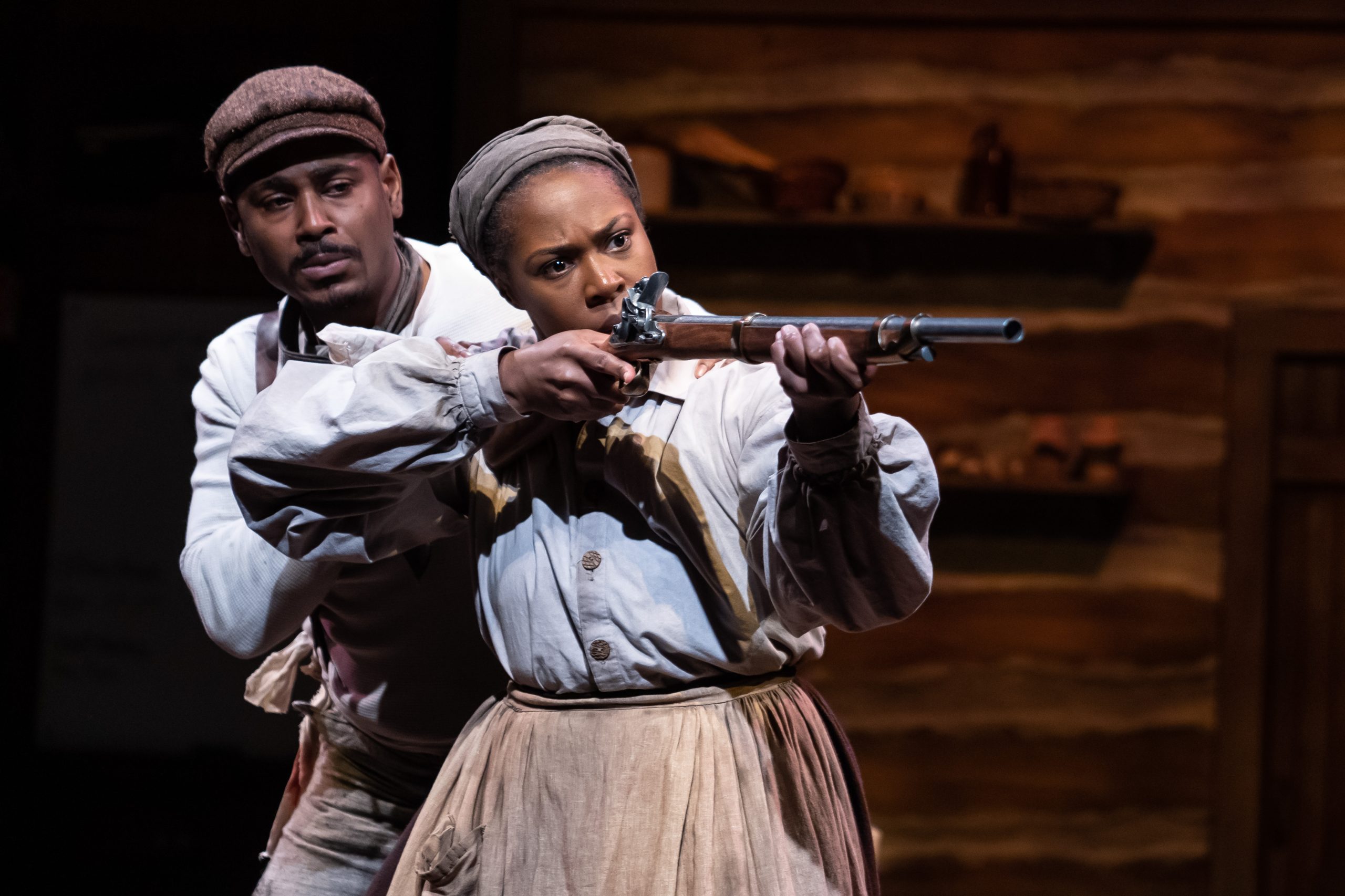 – By Cate Marquis –
"Confederates," the latest play on the Repertory Theater of St. Louis' Mainstage, is, by far, the best show in the Rep's 2022-2023 season yet. "Confederates" tells two compelling stories in parallel, about two Black women, one a present-day professor at a small Ivy League university and the other an enslaved woman in the South during the Civil War. Despite the historical gap between them, "Confederates" finds links between these women and their excellently-told stories, tales which engross the audience while provoking deeper thought on race, sexism and other topics.
The play is by MacArthur Genius Award winner Dominque Morisseau, who is also a two-time Tony nominee. "Confederates" is being produced in association with Oregon Shakespeare Festival (who commissioned it), and it is making not just it's local debut but it's Midwest premier at the Rep. "Confederates" runs Feb. 11 – Mar. 5 at the Rep's Loretto-Hilton Theater at Webster University in Webster Groves.
The stories alternate, and are presented side-by-side on a cleverly-designed set by scenic designer Nina Ball. In the present, Sandra (Tatiana Williams) is a tenured professor at a small Ivy League university. Her courses are popular with students and she is well-respected in her field and at the university. Yet, one morning when she arrives at her office, she is shocked to find something tacked on her door: a black-and-white photo of an enslaved Black woman nursing a white baby but with the professor's face photo-shopped over the enslaved woman's. As Sandra tries to find out who is responsible for leaving this offensive doctored photo, she asks those around her if they know or saw anything. But Sandra now is unsure who to trust or even who to suspect – the promising young Black male student Malik (Xavier Scott Evans) who had been unhappy with his grade, her white female assistant (and adoring fan) Candice (Tracey Greenwood), or her colleague Jade (Celeste M. Copper)c, the only other Black woman in her department, who is seeking tenure and hoping for Sandra's support.
In the 1860s South, with Union troops edging closer, a young enslaved Black woman named Sara (Tiffany Oglesby) also wonders who to trust as she dreams of freedom. Her brother Abner (Xavier Scott Evans) has already escaped the plantation and joined the nearby Union forces but we meet Sara as she is busy sewing up a wound on her brother, who sneaked back secretly looking for her help after getting shot. Sara is lively, skilled and smart – and she can read, something forbidden for enslaved Blacks. She is eager to join her brother in the fight for freedom but when she begs him to take her with him, but Abner refuses, saying fighting is not for women.
After Abner leaves to rejoin the Union forces, Sara gets another secret visitor – the daughter of the plantation owner, Missy Sue (Tracey Greenwood), who was Sara's childhood playmate. Missy Sue has been up North and now wants Sara to become a spy for the Union, gathering information from inside the Missy Sue's father's house, promising Sara transfer to a job inside the house. Understandably, Sara is wary of Missy Sue but has little choice. Inside the house, Sara encounters another enslaved Black woman, Luanne (Celeste M. Cooper), who wonders if Sara is there to take away her own job in the plantation owner's house.
On the surface, it seems these women in differing times have little in common but that shifts as the story unfolds. Both stories have plenty of cat-and-mouse twists and surprises, and having the same three actors play dual roles helps tie them together. Director Elizabeth Carter is excellent at bringing out the tension, the drama, and the bits of humor sprinkled in both stories, which start to intersect physically more as they unfold. There is no intermission to interrupt the building tension. Both stories entertain and engross with their dramatic narratives but they also make deeper points about race, gender-bias, sexism, patriarchy and power as they sweep us up in the stories. Acting is strong and both stories are moving.
The Rep's "CONFEDERATES" is on stage at the Rep's Loretto-Hilton Theater in Webster Groves, through March 5.
RATING: 5 out of 5 stars
© Cate Marquis