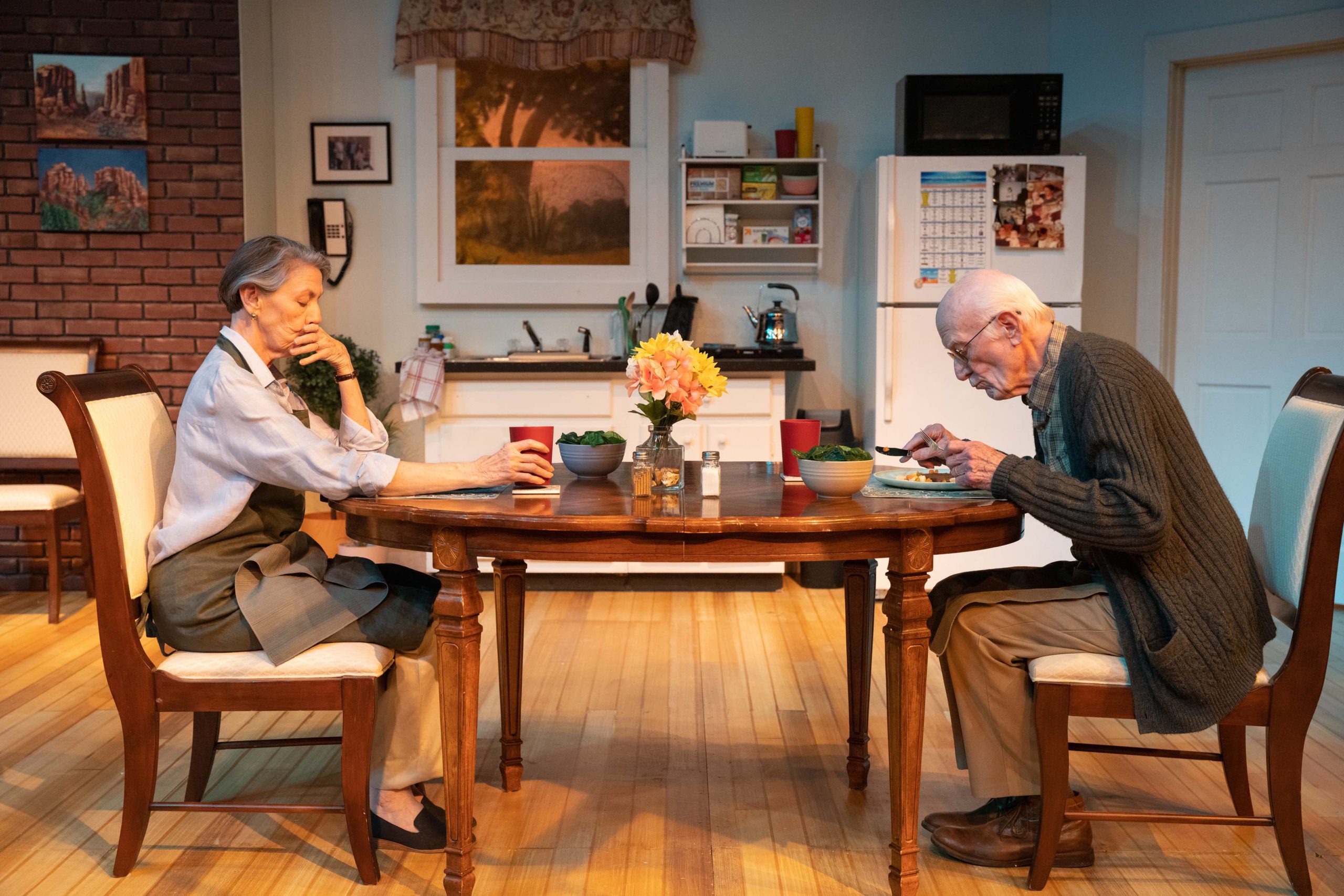 – By Cate Marquis –
Legendary and beloved local actor Joneal Joplin is back on stage with Moonstone Theater Company's "Grand Horizons" – and he brought his son with him. Jared Joplin, an Equity actor like his father, plays the role of Joneal Joplin's son, in the hilarious and honest "Grand Horizons," a Tony-nominated play by Bess Wohl making its regional debut here. The Moonstone Theater Company's production, the second one of their second season, is a real winner, delivering more laughs and real truth than you find in many dramas about marriage or families, and some real food for thought about getting older, family dynamics, and dreams that know no age. "Grand Horizons" is on stage at the Kirkwood Performing Arts Center, from March 16 to April 2.
In their senior living apartment in a retirement complex called Grand Horizons, an older couple sits down to dinner. No sooner do they lift their forks, than the wife, Nancy (Sarah Burke) announces she wants a divorce from her husband of fifty years. After a beat, the husband, Bill (Joneal Joplin), agrees with a single word and no questions. Then they resume their meal. End of story? Hardly – especially when their two grown sons, Ben (Jared Joplin) and Brian (Cassidy Flynn) hear about it, and descend on their parents to try to persuade them not to end their long marriage. Ben brings along his very pregnant wife Jess (Bridgette Bassa) and both sons bring plenty of baggage – the emotional kind.
Both sons are distraught over the thought of their parents splitting up, and quickly family dynamics emerge. Ben is a take-charge guy, even if others don't want him to do that. His wife Jess, expecting their first child, tries to calm him down and get him to take a step back to see the bigger picture, while trying also to get her husband to focus more on preparing for their coming baby. The younger son, Brian, is a single, gay guy who has not quite found his footing yet in life, and is pretty sensitive about it. The complicated family dynamics keep the grown sons from seeing and confronting the real issues at first, and long habit keep Bill and Nancy from communicating about their marriage. The sons assume they know everything about their parents, and even Bill and Nancy, so long married, assume they know everything about each other. But maybe not, in this surprising, well-crafted play.
Rounding out the cast are Carmen Garcia as Carla and William Humphrey as Tommy, who both come into the story a bit later.
"Grand Horizons" is that rare thing, a smart, funny play that treats older people like real, full human beings with hopes and dreams like the rest of us, instead of unchanging or stilted stereotypes, as they so often are portrayed. The approach is refreshing and deepens the story. This is a play about love and about personal fulfillment, and how those two things can co-exist – or not. In a sense, it is about people being seen for who they are, and being heard.
Director Sharon Hunter, who is also the founder and producing artistic director of Moonstone Theater Company, does a marvelous job with this entertaining and thoughtful production, and with her excellent cast. This is a play for grown-ups, with some strong language and sexual situations, with thought-provoking subject matter along with its witty dialog. The story and the characters are very realistic, and they engage in the kinds of naturalistic discussions and disagreements you might find in any family, talking over each other or not always being perfect. The humor is sharp, the dialog well-written, the characters believable and memorable, and the story has twists that take it in unexpected directions.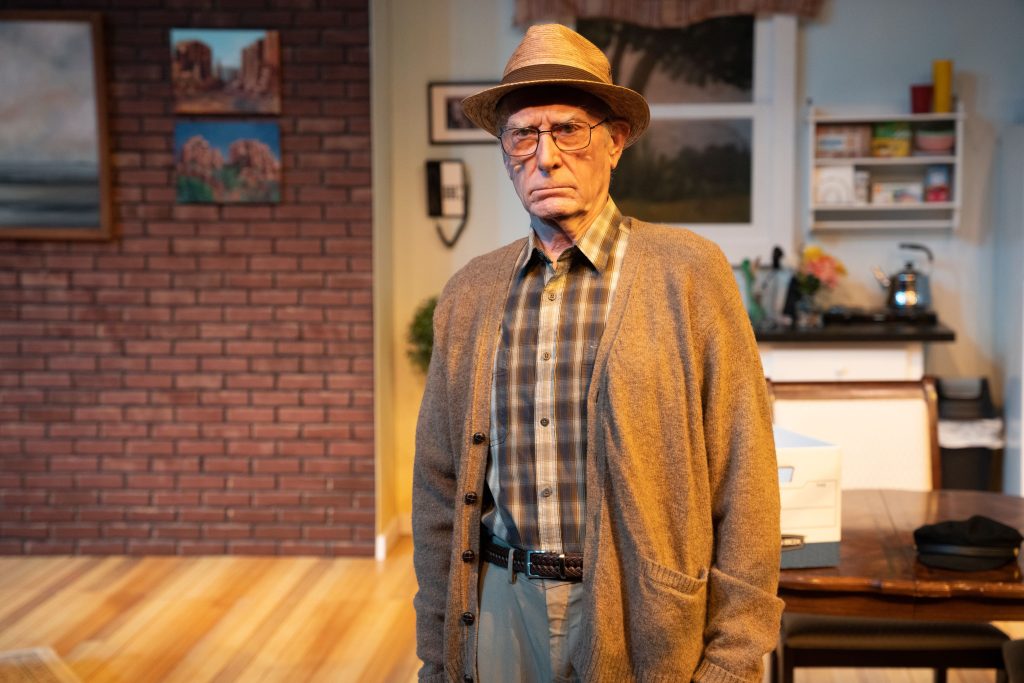 This ensemble cast positively glitters in this production, doing excellent work in their individual scenes and as a group. Joneal Joplin, now in his 80s, is wonderful, of course, in both the dramatic and comic parts of his role, and remains a riveting presence. A particular standout is Sarah Burke as Nancy, who is in many ways in the lead character, although this is really an ensemble show. Burke's Nancy is graceful and gracious but she is smart and determined now to break out of her wife and mother role to explore, well, new horizons. Sarah Burke is an actress who returned to here to her hometown to retire after a career based in New York, and, boy, are we lucky to have her here in this show. Watching her and Joneal Joplin in their scenes together is a complete treat, as these two polished pros create magic on stage. Both Jared Joplin and Bridgette Bassa are strong in their roles as Ben and Jess, mixing their struggles with each other and their own inner worries, while juggling the issues of Ben's parents. Cassidy Flynn handles his role as less-than-honest and uncertain Brian well, with humor and humanity. In their smaller parts, Carmen Garcia and William Humphrey are also spot on.
The staging deserves some extra praise, with kudos to scenic designer Dunsi Dai. The story unfolds on a single set, on a thrust stage with the audience on three sides, but there is an stage effect that at the end of the first act that is a wow, and brilliantly executed. This is only the second season for Moonstone Theater Company but it seems already fully grown and off to a brilliant start, with the promise of more theatrical delights to come.
Moonstone Theater Company's witty, illuminating "Grand Horizons" is on stage in the Strauss Black Box Theater at the Kirkwood Performing Arts Center, 210 E. Monroe Ave., Thursdays through Sundays, through April 2. Tickets are general admission, and prices are $40 for adults, $35 for seniors and $15 for students, and they are available at moonstonetheatrecompany.com.
© Cate Marquis
RATING: 5 out of 5 stars