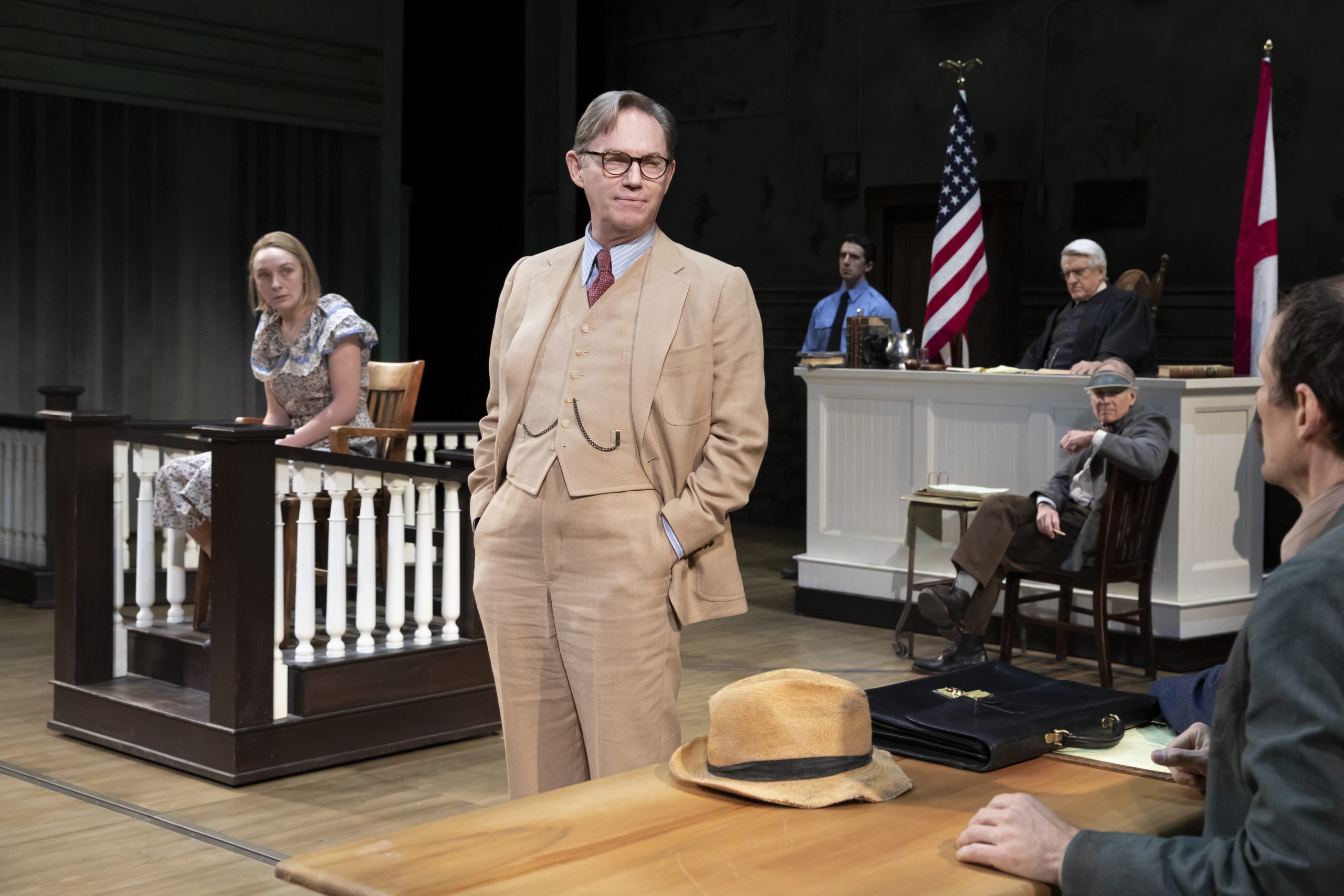 – By Cate Marquis –
"To Kill A Mockingbird" has been a smash hit on Broadway, and the Fox has scored a real coup in bringing hit to local audiences, including original cast members Richard Thomas as Atticus Finch and Mary Badham, who played the little girl Scout in the famous 1962 movie, who now plays the old neighbor Mrs. Dubose. Adapted by Aaron Sorkin, this show lives up to all the hype you have heard, and is without a must-see for every theater fan in the area.
Most people have either seen the 1962 movie starring Gregory Peck or read the novel by Harper Lee, and are familiar with the general story. The book has been on school reading lists almost since it was published in 1960, during the Civil Rights Era, and is widely considered one of the best books on race and prejudice in the South in its era. The story is set in the early 1930s, during the height of the Great Depression, in a small town in Alabama.
The story is narrated by a 6-year-old girl, Jean Louise Finch, nicknamed Scout (Melanie Moore). The story has two overlapping tracks, which alternate and intertwine: the children – Scout, her older brother Jem (Justin Mark) and neighbor Dill Harris (Steven Lee Johnson) and their summertime world of play and adventure, often centered on their curiosity about unseen neighbor Boo Radley (Travis Johns), and a trial in which Scout and Jem's lawyer father, Atticus Finch (Richard Thomas), has been court-appointed to defend a young Black man, Tom Robinson (Yaegel T. Welch), against a charge of rape of a poor farmer's daughter, Mayella Ewell (Arianna Gayle Stucki), a charge brought by her aggressive father Bob Ewell (Joey Collins).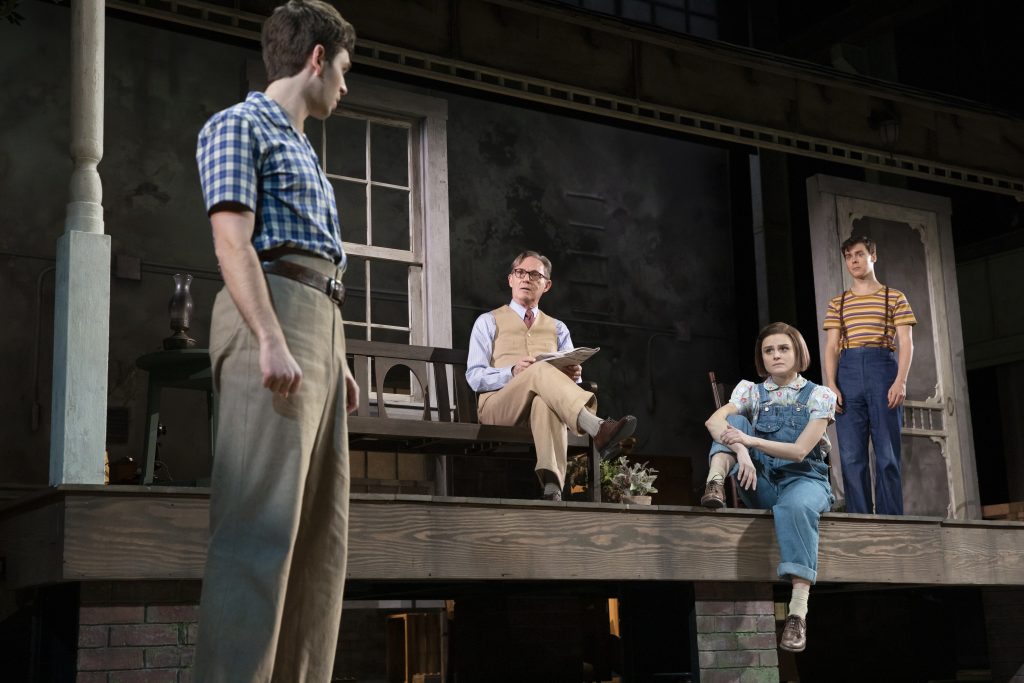 All the children's roles are played by adults, who behave convincingly like children, which works surprisingly. Melanie Moore's Scout is inquisitive and full of bouncy energy, while Justin Mark plays her older brother Jem as a boy trying to be more grown-up. Steven Lee Johnson is charming and funny as Dill Harris, the character inspired by Truman Capote, author Harper Lee's childhood friend. The child roles provide most of the humor but, surprisingly, so does Richard Thomas' Atticus, one of the ways in which his Atticus Finch differs from Gregory Peck's version in the movie.
Aaron Sorkin's adaptation updates the story somewhat for modern audiences, reflecting our time in the same way that the film and novel reflected their time rather than just the 1930s when it is set. One change is an expanded the role for Calpurnia (Jacqueline Williams), the Finch family's Black cook who has helped the widower Atticus raise his children. Her expanded role allows us to hear more of a Black perspective on the story's events. This Calpurnia is on a more equal footing with Atticus than in the movie (and in this play, the relationship between Atticus and Calpurnia is described as brother and sister). Another change from the film is the increased use of humor, bringing out more of the humor in the novel than the famous movie did.
On the other hand, one unpleasant change that audiences should be prepared for is the play's more frequent use of the n-word. Although used as a way to spotlight bigotry, it is still jarring to hear, and it is surprising to hear it when one might expect instead the then-more-common term "colored" rather than the even-then offensive n-word.
Other significant characters in the story include the town sheriff Heck Tate (David Christopher Wells), Judge Taylor (David Manis), Link Deas (Jeff Still), who is Tom's white employer, and Mrs. Dubose (Mary Badham), the angry elderly woman who scolds Scout for her manners and calls her an "ugly girl." The role of mean Mrs Dubose is also expanded. allowing her to represent attitudes of past generations of the Deep South, and to contrast with Jem's sense of fairness and justice. Some memorable scenes from the film, like the mad dog one, are absent but discussions among the children, and particularly between Calpurnia and Atticus, are expanded to deepen the discussion.
Excellent performances by the cast are one of the stage play's biggest draws. Richard Thomas gives his own take on Atticus Finch rather than just repeating Gregory Peck's performance as the noble lawyer and father. Thomas' Atticus is still an upright, ethical figure but this Atticus is both more expressive, optimistic and funny, but less sure of himself, less certain he can always do what he hopes to do – like get Tom Robinson off. The children sometimes push back on Atticus' determined efforts to consider the viewpoint of everyone, even mean Mrs. Dubose.
Mary Badham, who played Scout in the 1962 film, seems to relish playing that baddie Mrs. Dubose, who unleashes on Scout before Jem steps in, and she is a feisty delight in the role. Melanie Moore is lively and energetic as narrator Scout, with Justin Mark as her more serious older brother Jem and Steven Lee Johnson as Dill Harris is often the most comic character. The audience responded especially strongly to Yaegel T. Welch's quiet, dignified performance as Tom Robinson. Travis Johns is also has a strong, quiet presence as both Atticus' poor farmer client Mr. Cunningham and the elusive Boo Radley.
The action takes place in front of a large and impressive single set, which brings to mind a prison or old warehouse of the 1930s. Props are moved around the space to create different settings and scenes. Even before the curtain goes up, the production puts the audience in mind of the earlier era. The Fox's usual fabulous bedazzled curtain is replaced with industrial-looking one, that reads "fire curtain," a fire-proof barrier that was required by law for fire-prone theaters starting in the early 20th century. When the curtain does come up, it reveals a tall, dark imposingly heavy-looking set, with high-set windows or a skylight in the center portion, bracketed on either side by imposing structures with old fashioned large doors and casement windows.
"To Kill A Mockingbird" hits all the right notes in a pitch-perfect production, and it is easily the best show of the Fox's 2022-2023 season. "To Kill A Mockingbird" is on stage at the Fabulous Fox through Feb. 5.
© Cate Marquis
RATING: 5 out of 5 stars