– By Cate Marquis –
The Repertory Theater of St. Louis finishes it's 2022-2023 season strong with a powerful two-person drama, "Gruesome Playground Injuries." Actually, what we see on stage is not particularly gruesome (the injuries place off-stage) and most of the injuries don't take place on the playground, but there is blood, pain and injuries – some physical, some emotional, some serious – as two kids who meet in a grade school nurse's office find an unlikely, lifelong bond. "Gruesome Playground Injuries" is on stage at the Kirkwood Performing Arts Center's Strauss Black Box Theater through May 13. This last production of the Rep's 2023-2023 season is part of the Rep's Steve Woolf Studio Series, marking the return of that long-running series, although not in the Loretto-Hilton Theater's venerable downstairs black box theater space but Kirkwood PAC's new one.
Doug (Brian Slaten) and Kayleen (Jessika D. Williams) meet as eight-year-olds in the school nurse's office. Both are "frequent flyers" – meaning they are there often. Doug is a risk-taker who is also accident-prone, not a combination that bodes well, but he is an upbeat boy, irrepressible and talkative. Kayleen is prone to stomach aches and often vomiting, and seems to actually enjoy hiding out from everyone in the nurse's office. There is a bit of an Eeyore and Tigger vibe to these two mismatched kids – bouncy, energetic Doug and morose yet defiant Kayleen. Still, the two hit it off, with Doug being one of the few people who can make stormy-mood Kayleen laugh while Doug is delighted to have an audience willingness to hear the gruesome details of his many injuries. It's kind of morbid, a kid fascination with the gross, but it works to make them friends, friends who are not shy about sharing sides of themselves they don't show to others.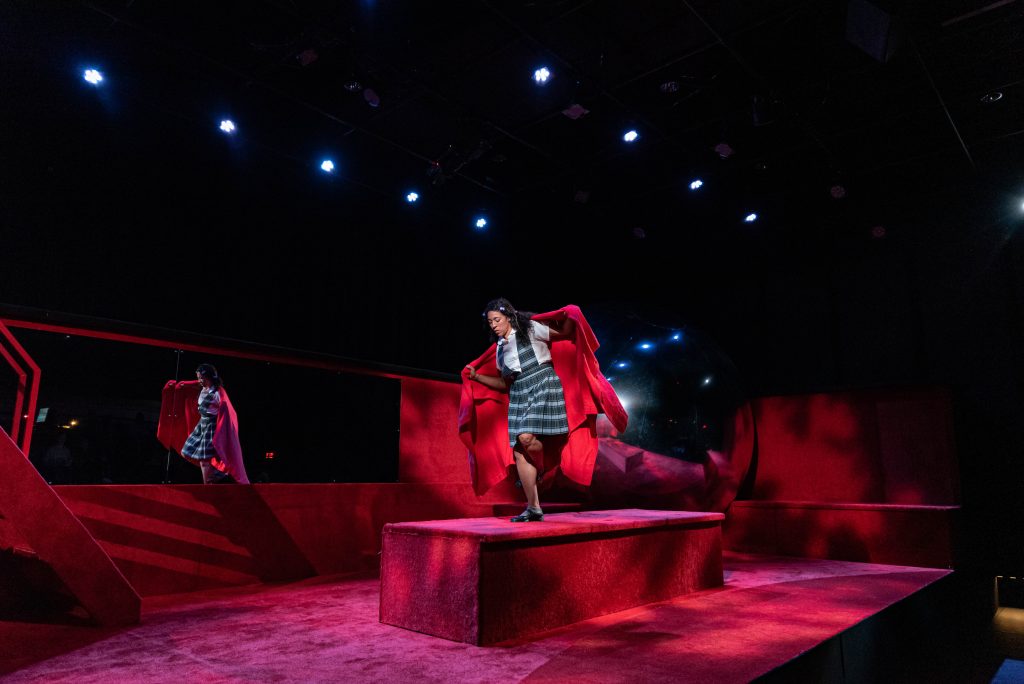 Doug grows up to be the kind of guy you hear about in those stories of bad ideas that start "hey, watch this" or "hold my beer." Kayleen grows up to be the sort of person who sees the darkest lining of every cloud, and seems haunted by bad luck and things going wrong. Yet together they are different, and there is a strange poetry, tragedy and even a bit of magic in their complicated long-time relationship. The show's program has a quote that expresses it well, "Maybe if I could climb to the top of this telephone pole in the rain at night, like the mast of a ship lost at sea, maybe I'll see the shine of you, bringing me home again."
This play's strange premise works largely because Brian Slaten and Jessika D. Williams create such vibrant, intriguing characters, so that we are quickly are drawn into their complicated relationship, a contradictory one that is both odd and, at the same time, kind of universal. After meeting at age eight, we see them over and over again, at various ages. The actors deliver powerful, emotional performances that make the air crackle with energy, exploring their complex characters and their unique relationship. The scenes jump back and forth in time but the actors help us keep track by writing the age of the characters in each scene on a chalk board at the back of the stage. It's not a typical love story by any means, if you can even call it that; maybe more a tale of friendship or hard-to-categorize connection.
The action takes place on a single set, appropriately all in black and red. That set – and the production's impressively creative staging – are something else that makes this production so intriguing. The set has multiple levels, with boxes, trunks, cubbie holes and hidden spaces scattered about. The actors doing quick costume changes right on stage, with no intermission and no curtain. The stage is the dressing room, and the actors are their own stage hands.
Director Becks Redman handles all this potential chaos masterfully and we are never confused about where we are in time or place, no small feat for non-linear story on a single set with few props. We are always focused on the characters, even as they do their quick changes, and always involved in their complicated but moving relationship. The play feels contemporary, timeless in a way, but award-winning American playwright Rajiv Joseph's drama actually dates from 2009.
This very inventive and moving drama is nice finish to a season that has offered some wonderful shows, one of the strongest yet that the Rep's Augustin Family Artistic Director Hana Sharif has created in her time at the Rep, a five-year run that had her wrestling with the pandemic and all the challenges that brought for live theaters. Sadly for us, this is her last season at the Rep and Hana Sharif is moving on to other theater horizons, as Artistic Director of Arena Stage in Washington, D.C. Her assistant, Managing Director Danny Williams, will take over as artistic director, with the director of this show, Becks Redman, taking on the role of Associate Director along with Reggie D. White, so there will be continuity.
This fine drama is a lovely swan song for Hana Sharif's tenure at the Rep, and we wish her a fond farewell. It is our loss, another theater company's gain, but a memorable time filled with accomplishment as she guided the Rep through two big transitions, from the retirement of long-time artistic director Steve Woolf and through the daunting challenge of a pandemic. Quite an accomplishment, and we wish her all the best as she embarks on new adventures.
The Rep's "Gruesome Playground Injuries" is on stage at the Kirkwood Performing Arts Center's Strauss Black Box Theater through May 13.
RATING: 5 out of 5 stars
© Cate Marquis