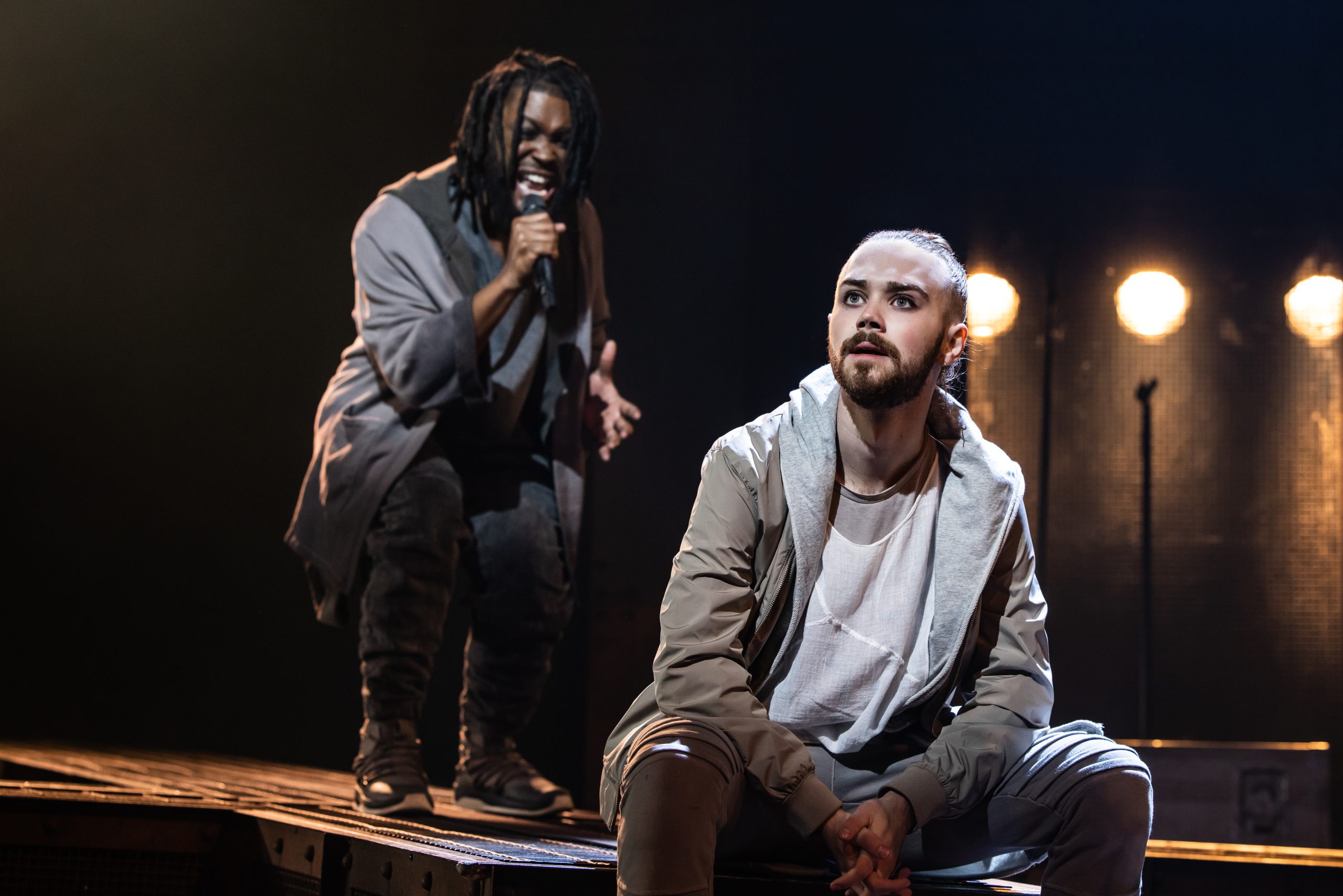 – By Cate Marquis –
A gorgeously staged, electrifying energetic new version of Andrew Lloyd Webber and Tim Rice's rock opera "Jesus Christ Superstar" bursts on to the Fox stage for a run from May 9 – 21. This touring show from London marks the rock opera's 50th anniversary, and this high-energy production reminds us just how good the music in this venerable show truly is. Having seen several productions of this award-winning musical, it was surprising to find a fresh and powerful new take on this familiar, beloved show. You have never seen a "Jesus Christ Superstar" like this one.
This production is the North American touring cast of the 2017 Olivier award-winning production that played Regent's Park Open Air Theater. No one does theater like the Brits but it is amazing how contemporary this production has made this 50-year-old musical seem fresh and timely, as well as timeless.
This new staging is quite different from earlier versions, which may delight some with the fresh take while perhaps unsettling some long-time fans of the usual version. The musical itself is unchanged but songs are presented concert style, with microphone stands, and prop corded microphones, with the singer belting out their numbers with dancers as backup, rather than one character singing to another, as musicals usually do.
The musical depicts the last days of Jesus Christ but generally more from the viewpoint of Judas. Judas, Jesus and Mary Magdalene are the trio at the center of the story, with the other disciples playing minor roles.
This is a true rock opera, where everything is sung, so it helps to already know the words, as sound clarity is not always best at the Fox. Among the memorable hits in this show are the title song "Jesus Christ Superstar," "What's the Buzz?," and "Hosanna."
Judas is played wonderfully by Elvie Ellis, with Jack Hopewell excellently cast as Jesus. Both men seem perfect for their roles, with Ellis' booming baritone expressing Judas's frustration with his long-time friend, who he thinks is losing his way, while Jack Hopewell's combination of physical beauty and sweet, angelic tenor voice, perfectly capture a sense of the heavenly. Faith Jones plays Mary with warmth and strength, and a beautiful voice, which is showcased in Mary's moving solo "I Don't Know How To Love Him." Other disciples roles are Simon (played by Hosea Mundi on opening night) and Peter Brett (played by Colin Robertson), with the ensemble playing the rest.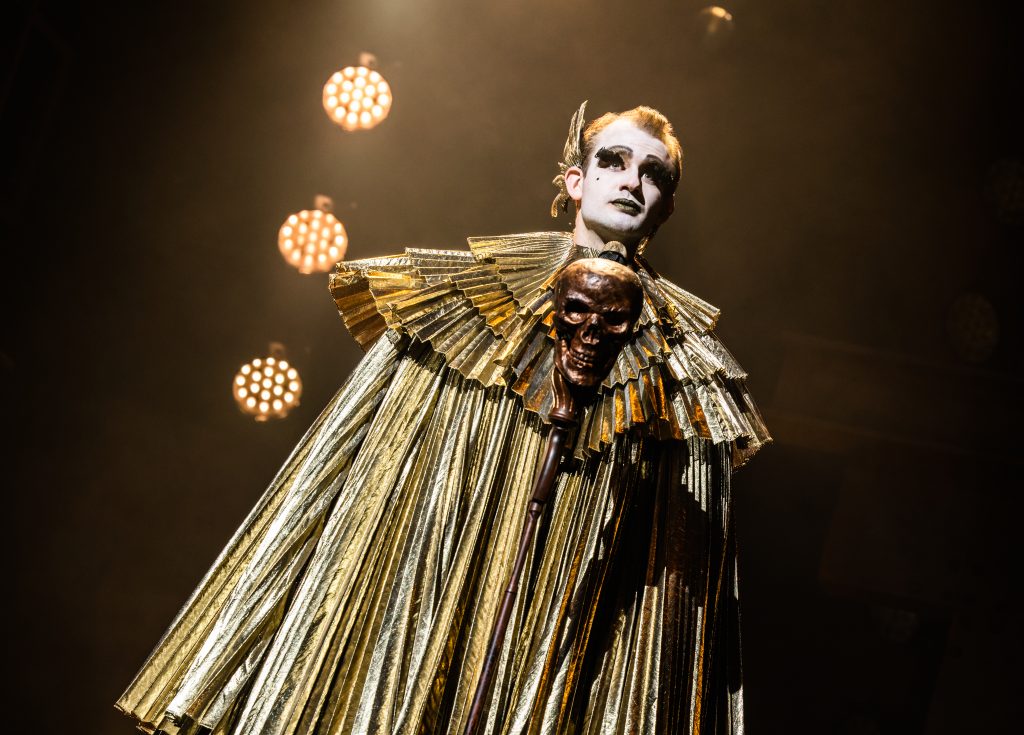 While the music has always been outstanding, this new version took me completely by surprise. This production feels both raw and contemporary, with an incredible emotional power and frenetic energy. Part of that energy comes from the fabulous choreography and the prominent role given to the dancers. In this version, Jesus is portrayed as a music star, a singer-songwriter type, often with his guitar slung across his back. The cast of disciples and followers, who are the dancers, are dressed in loose light-colored clothes that reflect both modern dancers' attire and youthful modern street wear.
While the followers mostly wear muted tones and simple clothes, the authority figures such as Pilate (Nicholas Hambruch), Caiaphas (Grant Hodges) and Annas (Kodiak Thompson) – often wear black and more elaborate clothes, or in the case of Herod, played with both flamboyant and menace by Erich W. Schleck, a glowing golden outfit that is as much prop as costume. His appearance is one of the showstopper moments of the production, emanating menace as he dominates the stage for "Herod's Song."
The staging is striking and beautiful, with angular, multi-level sets, dramatic lighting, and frequent use of corded microphones and microphone stands as props. The use of color is sparing but powerful, heightened by the dramatic lighting. Microphone stands are ever-present, with the staffs carried by Caiaphas and his crew flipped over to become mic stands and even the crucifix being assembled out of large mic stands. The inventiveness is impressive,
The very contemporary setting makes the show feel set in the present and underscores more starkly the "superstar" part that made it groundbreaking in its day. Fans of the usual staging of this musical might find the rawness and energy unsettling, but the changes are in how it is presented, not the content, and others might find the less familiar approach refreshing and renewing.
The staging is a knock-out, with a big imposing structure dominated by a huge cross laid flat at the center, seeming to point out at the audience. Little crosses are everywhere, with boxes intersecting to form them, highlighted in silver, everywhere. Most of the costumes are in off-white or gray and the single set is repurposed to represent various sites. The songs are presented like a concert, but the singers are surrounded by dancers, who seem to interpret the words, almost in pantomime, as they sing. The songs by Jesus, Judas and the disciples are performed mostly on the stage level, But those sung by authorities like Herod, Pilate and Caiaphas, are sung above them, using that giant cross as a runway, and looking down, literally on Jesus and his followers.
"Jesus Christ Superstar" is a high-energy and energizing new take on a great rock opera, and a show well-worth seeing no matter how many time one might have seen it before, and a thrilling experience for anyone new to it.
"Jesus Christ Superstar" is on stage at the Fabulous Fox through May 21.
© Cate Marquis