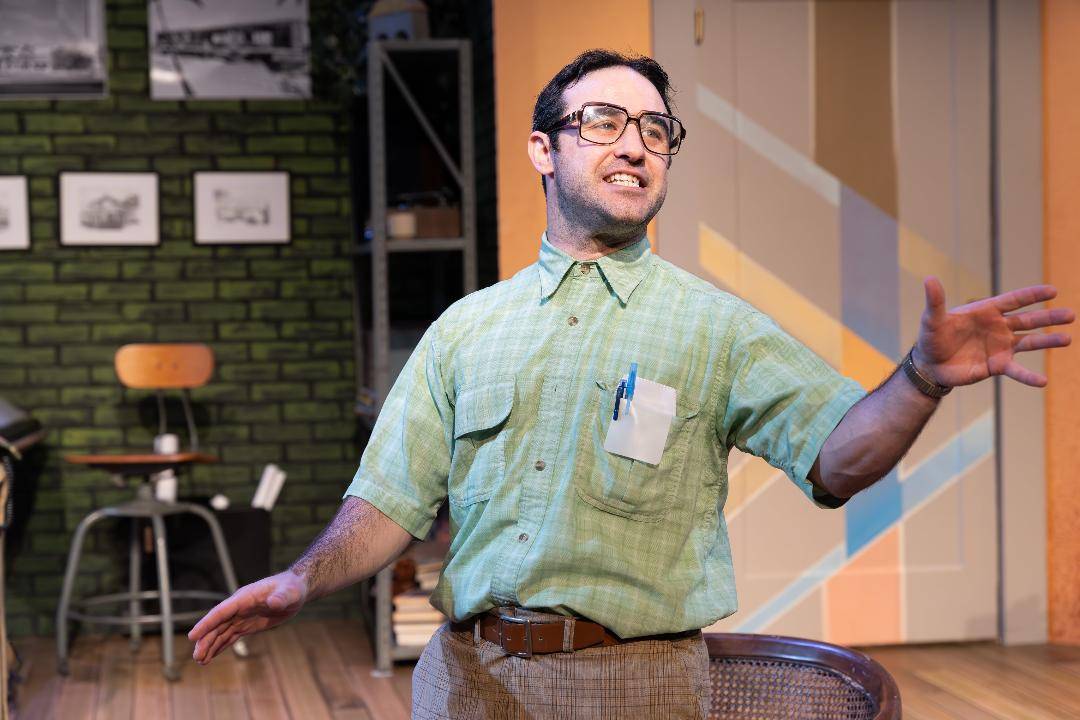 The Moonstone Theater Company's previous production "Grand Horizons" was an intelligent, thought-provoking drama that was pure delight. For it's last production of this season, Moonstone decided to go lighter. They chose a comedy with no deep intentions, Larry Shue's "The Nerd." Gary Wayne Barker directs the 1981 comedy.
A young architect in Ohio, Willum Cubbert (Oliver Bacus) is thrilled when he get a letter from the man who saved his life in the war, Rick Steadman (Ryan Lawson-Maeske). Although Steadman dragged the injured Willum through the jungle to safety, Willum has never met him in person, as his hero was sent back into combat before Willum regained consciousness. Ever since, he has regarded Rick Steadman as his hero, and pledged to do anything for him, because he owed him his life.
Now, he was going to meet his hero, because the letter says Steadman is coming to visit – and this weekend. While Cubbert is excited to meet his hero at last, the timing isn't good. This weekend, Willum is hosting a difficult client Warnock Waldgrave (Greg Johnson) and his family for dinner. Waldgrave has commissioned a big job, a well-paid one, but Willum is struggling to give the builder what he wants. Willum is a talented architect and has dreams of a grand career, but seems stalled, taking unchallenging jobs like the one from Waldgrave, just for the money.
Willum's supportive girlfriend Tansy (Bridgette Bassa) wants Willum to follow his dream, and is going to follow hers, by taking a big job in Washington DC. She hasn't told Willum she's leaving yet, even though it is next week. Willum's best friend, an outgoing theater critic names Axel Hammond (Bryce Miller), knows about Tansy's plan but has promised not to say anything until she tells Willum.
When the hero Willum has longed to meet and for whom he has promised to do anything, Rick Steadman (Ryan Lawson-Maeske), shows up, he's not what anyone expects. He's loud, he dresses weirdly, he is a social idiot and a physical klutz. In short, a nerd.
Well, not exactly. While Rick Steadman is plenty odd, he is more a jerk than a nerd, someone who thinks only about his own comfort and and preferences, and even bullies others into complying with whatever crazy thing he wants to do.
This bull-in-a-china shop shows up at a particularly complicated moment for the young architect. The touchy Waldgrave is pressing Cubbert to finish his design for his big building project but Willum is struggling to come up with a design that Waldgrave likes, because he rejects every creative idea the architect comes up with. In his effort to wine and dine his difficult client, Willum has invited his family to dinner, which is now made complicated by his new and odd house guest. Waldgrave's wife, Clelia (Leslie Wobbe) seems nice but she's also nervous and easily shocked. The couple's one child, Thor (Kieran Thompson), is a wild, spoiled holy terror but also easily traumatized by the unexpected.
Not surprisingly, chaos ensures. Hilarity, not so much.
Clearly, hilarity is supposed to ensue, but mostly it doesn't, largely due to the dated humor which is more squirm-inducing than anything. There were some occasional laughs in the audience but as often, there are just uncomfortable looks, and some moments are simply squirm-inducing.
Surely intentions were good, but it might have been better to test this older material on a contemporary audience. The humor is definitely 1980s, when this sit-com type comedy is set. There is also a lot of loud and fast farce-like humor.
While Rick's jerk behavior makes him less sympathetic, there are still problems with the humor in this dated comedy. While Rick Steadman's personality flaws are glaringly obvious, what the comedy tends to build its jokes on is less his selfishness and more his social oddness – his clothes, his ideas about food, his strange customs and habits, and the other ways in which he is just different from them. This style of humor is built on laughing at people rather than with them, a type of comedy whose moment may have passed, especially for younger audience members. You can see where the problem lies.
However, whatever the play's issues, none of the fault lies with the cast, or the crew. The cast give it their all, going with the goofy premise, no matter how crazy, delivering high-energy efforts and trying to make it as funny as possible.
Some standouts are Bryce Miller as the friend Axel, a snarky character who is often the most high-energy and entertaining one on stage – and the only one allowed to say out loud what others are thinking. The other is Ryan Lawson-Maeske as the nerd, Rick Steadman. Lawson-Maeske does his very best to wring humor out this very strange character while also making him sort of self-possessed, and even a touch demonic, in a way that keeps him from being a pitiable figure – as he cannot be for this premise to work.
The play has a surprise at the end, which goes some ways towards undoing a portion of its egregious humor, but not all.
The biggest question this uncomfortable comedy raises is why it was chosen as the closing production for Moonstone's second season, particularly following the stellar "Grand Horizons."
Actually, "The Nerd" was a sort-of last minute substitution for another play, "The Sound Inside," which has been rescheduled for next year. The need to find a replacement may have prompted a "what the heck" attitude from someone with fond memories of '80s sit-coms, something even referenced in the program notes. A lot has changed since the '80s, and not everyone is nostalgic for that era's humor.
Still, the Moonstone must be forgiven a little misstep in this choice, having done such a marvelous job with prior productions.
Moonstone Theater Company's "The Nerd" on stage in the Strauss Black Box Theater at the Kirkwood Performing Arts Center, 210 E. Monroe Ave., Thursdays through Sundays, through July 23.
© Cate Marquis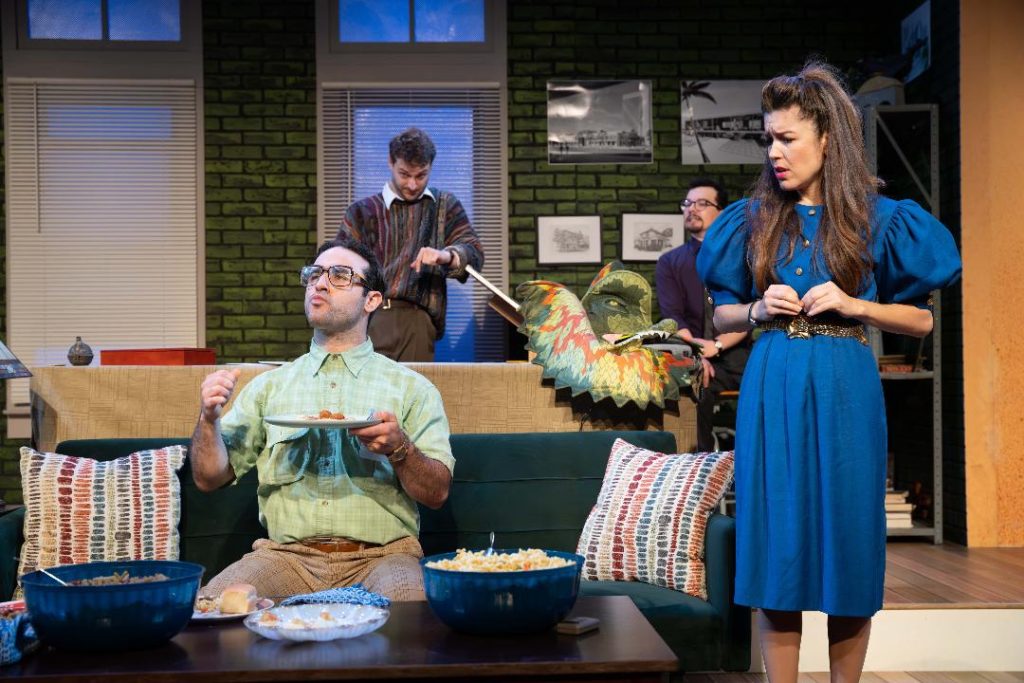 (l-R) Ryan Lawson-Maeske as Rick, Oliver Bacus as Willum, Bryce Miller as Axel and Bridgette Bassa as Tansy, in Moonstone Theater's "The Nerd." Photo credit: Jon Gitchoff. Courtesy of Moonstone Theater Company